Several World War 1 veterans moved to Cosgrove after the Great War and lived there for most of their lives. A good example was Frederick John Holman, whose family at one time kept the Shoulder of Mutton public house at Calverton. Later the family moved to Old Stratford and finally to Cosgrove in 1927, when they first rented and then owned Bridge House, now 40, Bridge Road.


Fred was born in 1894 and was always a practical man. He was a good friend of Joseph Brown from Castlethorpe.
When war was declared Fred's younger brother, Charlie "Wag" Holman went to enlist and the family believe that Fred, aged 20, went along to keep an eye on his brother.
With the 2nd Battalion Oxford and Buckinghamshire Regiment, Fred trained as an Electrical Wireman" – unusually technical work for the time. He was also a "Lewis" Gunner. He was posted with his unit to Salonika, and with others in the campaign was injured in conflicts with the Bulgars during August 1916.
Several "wounded" reports exist for Fred Holman. He was firstly described as having an unknown disease by the 29 Gen. Hospital, Salonika in August 1916. It is believed that he recovered from this problem and was returned to active service with his unit.



Admitted to the 7th Canadian Hospital, Etaples, France, in July 1917, Fred had fallen foul of a gas shell, and it was this incident that was to affect him for the rest of his life. Transferred to the 6th Convalescent Depot at Etaples, and then to another depot at Rouen, Fred finally reached the 9th (Lakeside USA) General Hospital in Rouen in March 1918, still suffering from the "effects of irritating gas (shell)".


By February of 1919 Fred Holman reached the Purfleet Dispersal Unit and by 1921 had been granted a disablement pension by the Medical Board. This disability was described as "Laryngitis (aggravated by Gassing)" and it was acknowledged that he had previously suffered from Malaria.
In fact, a newspaper article, years later, reveals the full extent of Fred Holman's injuries. He had been blinded for four months by the gas shell, which had also damaged his knee. He lost all sense of smell, but most debilitating was his inability to speak for many years.
Despite this, Fred managed a responsible job at Wolverton Works, where he was a millwright. During the Second World War Fred dug a secure bomb shelter in the garden of Bridge House to ensure his family's safety from further trauma.




From the 50s Fred devised aids and systems for his disabled son Jim, which are described in "Cosgrove Characters" on the History website. A description of Fred having rescued a boy from the canal is also recorded there.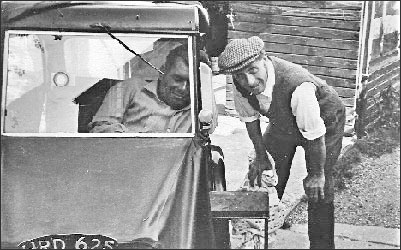 Fred Holman with his eldest son, Jim.
Fred's son John still lives with his wife Phyllis in a house built in the garden of Bridge House.
Fred himself was buried at Cosgrove Church March 11th 1982 at the age of 89. His wife Lily followed him a year later.
Fred's brother, Wag, came through the war without injury, and kept in touch with his older brother thus:
Dear Old Fred
You have neither written to me nor I to you for some considerable time. But I felt I must not miss your Christmas Card. I have been interested to know of your progress each time Mother has wrote and would of very much liked to hear from you. But there it is. I hope I shall see you shortly now.
What do you think of the Old Battalion now right North of Bulgaria eh? Cheers.Oh and I hope you have a Right good old time at Xmas. I wish I was with you. Write us a line when you can.
With fondest Love from your Loving Brother Wag.