Jim Holman


Fred and Lily Holman were an Old Stratford couple whose first son, Jim, was born in 1921. Sadly, Jim contracted infantile paralysis (polio) when only two years old, and was left unable to walk. In those days polio was widespread, and the vaccine which eventually brought it under control was not developed until 1950. When Jim became ill the only treatments were in an iron lung to help breathing and warm compresses and massage to ease muscle spasms.


Jim spent his early years in and out of hospitals and had both his 6th and 7th birthdays on hospital wards.


In 1927 the family moved to Cosgrove and on March 19th paid their first rent of 10 shillings on Bridge House (now no 42), one of the oldest houses in the village. An early steep pitched roof line is evidence of its age. Fred Holman later told his sons that the house had originally been in a cooper's yard, and in 1927 double barn doors were still present at the gable end of the house next to the road.






Jimmy Holman in his spinal carriage, c1930 when he lived in Old Stratford
| | |
| --- | --- |
| | There were few special schools at that time and Jim went to the same school as his friends, using a wheelchair to get along Bridge Road to the village school. At this time the school catered for primary and secondary students and Jim stayed there until his school leaving age of 14. Nobody can recall this being unusual, and adaptations must have been made for him as a matter of course. |
| 1927 Bridge House Rent Book | |
Bridge House itself was modified – the barn doors were removed and a sitting room made for Jim with a window near the road. This work was done by his father, family and friends. Late in the 1930's they bought a little wooden shop for the garden, letting onto Bridge Road, and Jim became the proprietor of a General Store, where you could buy anything from a hairpin to a bag of sugar.

| | |
| --- | --- |
| | |
| Location of Jim's shop on Bridge Road | Front aspect drawing of the shop. |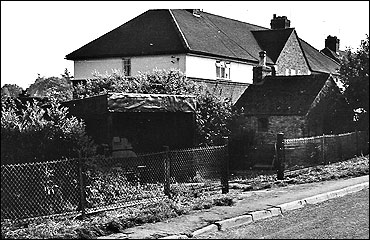 1950s - "Jim's shop was listed as 38 Bridge Road,
and to this day that number is missing in the road after the shop was dismantled."
---

Jim was not about to let his mobility difficulties affect his life – he seems to have been a highly persuasive person and with his inventive family set about becoming indispensible to the village.

He had many basket chairs and wheel chairs – hand pushed, self propelled, hand levered, then a chair adapted for a petrol engine by various friends. His younger brother recalls racing along behind this chair hanging onto its back from his bike. There was even a three wheeled converted motorbike.


In the 1960s and 70s invalid carriages were introduced and Jim latterly used one of the iconic blue three wheeled NHS cars.



1960 - 3 wheeled motor bike made for Jim Holman
---
Of course, the activities which Jim mana
ged from his various modes of transport were in themselves unusual for a person with a disability. He ran a troop of Scouts in Cosgrove, organising camping trips at the Quarries and other local sites, as well as some meetings in the Old School in the village which was used as a community room before the Victory Hall was built after the Second World War.


| | |
| --- | --- |
| 1960 Jim Holman with his dad Fred | Jim was known in most of the villages round – he seemed to have friends everywhere and would stop and talk to anyone. Jim and his friends and family loved shooting and fishing. On fields near what is now Cosgrove Park, and in the Spinneys, they took up to half a sack of rabbits on a morning, shot pigeons, and culled rooks – some of which ended up in rook pies made by the farmer's aunt. Provided they left the pheasants alone Jim seemed to have been able to get permission to shoot in most places. His brother recalls spending hours building hides with Jim in the woods and generally having a marvellous time. |
Jim's little "gang" also managed to go fishing on the Broadwater by taking a tarpaulin along the towpath, pulling Jim onto it and sliding down the bank to the fishing ponds. On the way home they just dragged him back up the slope the same way. Jim also had permission to fish on the Wakefield Estate – a rare privilege.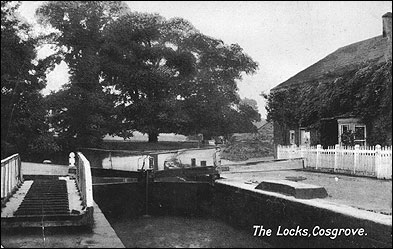 Fishing expeditions were a hair raising business. In those days, in the 40s,
a swing bridge went across Cosgrove Lock and Jim was able to get along the Buckingham Arm using it.
In 1951, still paying a rent of 10 shillings a week, the Holman family bought Bridge House. Because his garden ran down to the canal, Jim had several boats. In their garden, on the canal bank, the Holmans built a gantry with a block and tackle, so that Jim's wheelchair could be hooked up, hoisted, swung over the cut and lowered onto the deck of the boat.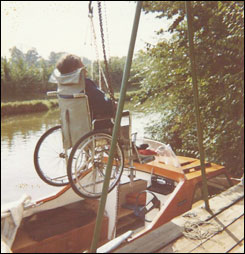 Jim on the Gantry over the canal getting into his boat with his wheelchair
These were day boats with a couple of bunks, adapted so that Jim could steer them from his wheelchair and start the engine with an adapted electric starter. One was an old wooden boat, covered in fibreglass at a later date. Jim couldn't manage the locks on his own but would travel as far as Stoke Bruerne and back, honking a horn on his return for the hoisting gang to help him disembark.
With his family to man the locks, Jim captained longer expeditions, to the Hatton Flight near Stratford upon Avon, and even down to the Camden Basin in London.
The countryside experience Jim had acquired stood him in good stead when Cosgrove Park opened. He became a Warden, or Bailiff, issuing fishing tickets and checking on the caravans, riding round the site in one of his vehicles, helping and organising the visitors.
In 1971, the family built a new house, Bridge View, in the garden of the old cottage and designed it so that Jim could live independently within the family home, moving comfortably round the ground floor with easy access to the garden, the village and the canal. A man of many parts, Jim would take on new challenges at the drop of a hat, and taught himself to play the electric organ, amongst other things.
Jim developed a garden that he could manage himself, organising the building of a raised pond and beds and a greenhouse, where he grew bedding plants and so on. Later, his family ran a popular plant nursery from the same garden. Jim had two consecutive Golden Labrador dogs, both called Laddie.
Jim, his brother John, John's wife Phyllis, Jim's father Fred and his mother Lily occupied the house and cottage until 1982 when Fred passed away. In 1983 Jim also died, followed by Lily. By this time this active family had promoted and supported community activities and projects that helped shape village life well into the following century.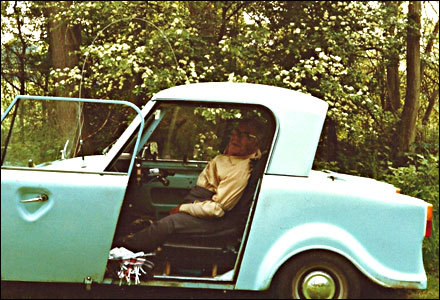 Jim Holman